A special thanks to all our buyers, consignors, sale staff, friends and family for making the 2018 Sugar Bars Legacy Sale a great success and looking forward to additional friendships and memories in 2019!


Sheridan County Fairgrounds
S.B.L.S. Yearling Halter and 2/3 Ranch Horse Versatility Futurity
Yearling halter classes are for any weanling horse purchased at our 2018 sale, except for the In-Hand Trail class.  The RHV class was established to demonstrate the versatility of the Sugar Bars bloodline; each entry will be shown in:  Halter, Reining and Western Pleasure.  Each class will be worth equal points.  (Example:  total points worth 90, each class is worth 30 points.)  Weanlings purchased at the 2016 or 2017 sale & yearlings purchased at the 2017 or 2018 are eligible to compete in the RHV.
​
1:00 p.m.  Halter Futurity
                                Youth- Filly and Gelding

                                Open- Filly and Gelding/Stallion

                                Youth- 2/3 Year Old RHV (halter) 

                                Open- 2/3 Year Old RHV (halter)

                                In-Hand Halter Trail Class- Youth (open to all youth and all yearlings)

                        2/3 Year Old RHV Pleasure and Reining

                                Youth

     10:00 a.m.     Saddle Horse Preview- Arena 

     12:00 a.m.     Futurity Awards- Sale Pavillion
     12:30 p.m.     Yearling & Weanling Preview- Sale Pavillion
       1:00 p.m.     Sale- starting with the "Wild Card"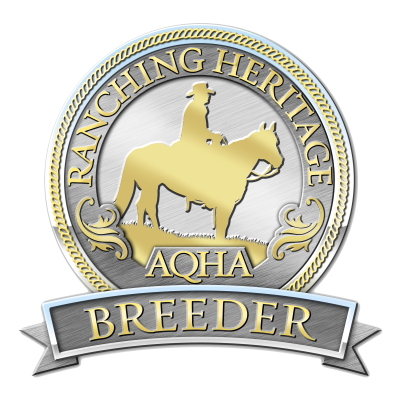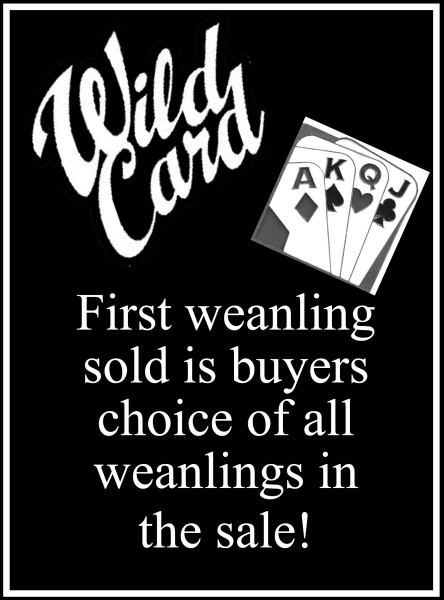 ​​

Please click on the "Wild Card" for more information.

Congratulations to

Nixon Ranch of Nebraska,

VLW Ranch (Ward) of South Dakota

Wetz Stirrup Ranch of South Dakota & Woodworth Ranch of Nebraska
and 

Bender Ranch of South Dakota,
Huxtable's of South Dakota,

 Long Ranch of South Dakota  &
  Swenson Martin Horse & Cattle Co of North Dakota

for being approved as Ranching Heritage Breeder's by the AQHA Ranching Council.
For more information please click on the Ranching Heritage Logo!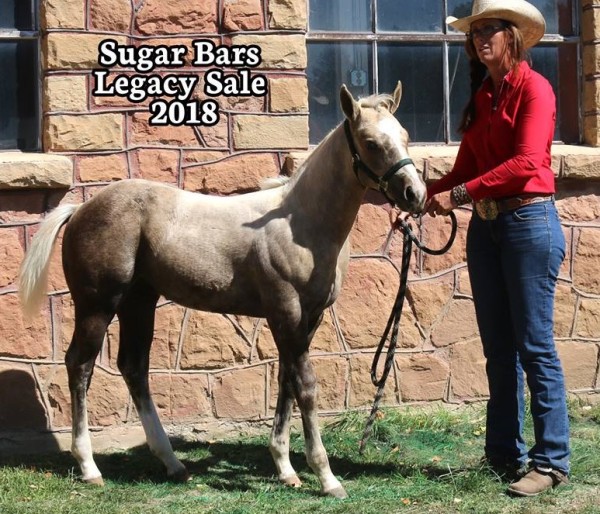 With no colt in the ring, the auctioneer asked for bids on the "WildCard".  The winning bidder chose Lot 17- TDM Four Star Lowry for their choice of the weanlings.  This beautiful palomino stallion was consigned by AQHA Ranching Heritage breeder- Swensen-Martin Horse & Cattle Co- Trent & Dawn Martin of Beulah, ND.  He was sired by Vascos Lowry Star- a Lowry Star, Colonel Freckles (Sugar Bars) bred stallion and his dam was Four Twenty One, a Colonel Freckles (Sugar Bars), Eddie 40 (Eddie, Happy Hancock) bred mare.  He was purchased by Aspen Larmer of Mot, MT for $3,300.
Haight Ranch-Dale & Carol Haight of Hanley, Saskatchewan, Canada was the consignor for the high selling Saddle Horse.  The saddle horses proved to be an incredible group of horses; ranging from finished rope horses, all around ranch horses and just started young horses needing a job. Sugar Bars bred Lot # 61, Profits Paisley, was the high selling saddle horse; a solid four-year-old buckskin mare; with eye appeal, color and good bone & feet- with a lot of heart.  Her paternal grandsire, Cook N Oak was a multiple working cow & reining Champion. Her sire, Profit Power offspring are tremendous rope, ranch and barrel horses.  She was started the right way and has 7 months training - nicely started out of the box and is barrel patterned.  She was purchased by Jon Robinett of Dubois, WY for $14,500.  Lazy H Y Corral of Carr, CO donated a custom saddle blanket to the consignor of the high selling saddle horse.